"Whatever happens in Vegas is obviously going to end up on television."
-Chris Costentino, Episode 4, Top Chef Masters
It's an odd coincidence, don't you think, that the same week Prince Harry got caught without his skivvies playing midnight pool in his hotel suite with a bevy of beauties, Chef Art Smith gained a bit of infamy of his own at Holly Madison's Top Chef Masters pool party, where he stripped down to his Speedo while channeling Bo Derek in the most hilarious, over-the top episode of Top Chef Masters ever made?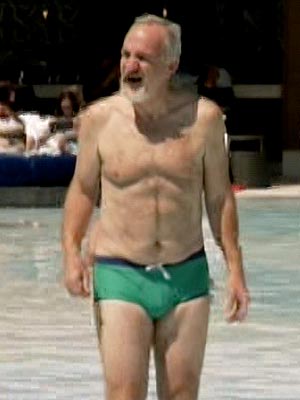 I haven't laughed so hard at a Las Vegas spoof since Zach Galifianakis woke up and found a tiger in his hotel bathroom in The Hangover.
So the premise of this solidly PG-13/Not Safe For Family Viewing Top Chef Masters Episode 5, Season 4, is Holly Madison throwing a birthday brunch/pool party for 150 of her closest friends, taking a break for her day job to do so:
She asked the Top Chefs to prepare comfort food since her friends might be hungover, requested that the food have no garlic or onion flavors so as to spare castmates any potential bad breath during that night's performance, and specified the dishes be served in teeny-tiny bites, ostensibly to help maintain their beautiful, buff bodies. She even gamely tasted all the food herself, nibbling enough with her teeth to comment appropriately on the textures and flavors presented to her.
And bodies there were – plenty of waxed pecs and brightly colored bikinis on display along with a few tasteful belly button rings, all to the giddy delight of many of the chefs and regular judges. Chef Takashi babbled about Holly Madison's beauty and how lucky they were. Francis Lam noticed how nicely Holly managed to taste her dishes while not mussing her lipstick. Art Smith said that even HE thought she was hot. James Oseland, especially, was giddy and sweet and very cute, acting like a kid in a human eye candy store, even gamely engaging in a push-up contest with two of Holly's friends, named – ready for it? – Cash and Amen.
The fabulous Indigo Girls started off the episode as guest judges in the chef's quickfire challenge – a strange twist of casting when you consider they are Holly Madison's exact opposite, even taking into consideration they are all female and in the entertainment business. And sadly, Holly Madison and her friends used all the resources of the hair and makeup stylists, leaving not even a hairbrush or bit of powder for the enormously talented and laid-back singing duo.
I actually had to go back and watch it again to pay attention at all to the food.  and when I did decided my favorite recipes were Lorena Garcia's for the Indigo Girls during the Quickfire Challenge. She made Arepa Dumpling Soup with Queso Freso as the vegetarian dish with Chicken Salad Arepa with Avocado and Queso Fresco from the Quickfire Challenge. I'd never heard of arepas before; they're a type of South American bread round made of corn that resemble gorditas. They look delicious. Here's the recipe for her chicken salad; it really does look like a perfect late-summer dish:

Chicken Salad Arepa with Avocado and Queso Fresca
Top Chef Masters, Season 4, Episode 5, Quickfire Challenge
Recipe type:
Appetiser, Main Course
Ingredients
Dough:
1 cup Harina Pan (boiled corn flour)
1 cup water
1 tablespoon salt
Other:
Oil, for frying
Chicken salad:
1 cup cooked chicken
1 avocado, small diced
¼ cup cilantro
1 teaspoon mustard
Salt and pepper, to taste
1 lime, juiced
1 lemon, juiced
1 tablespoon extra virgin olive oil
Instructions
Dough:
Mix all ingredients well until dough is formed.
Chicken Salad:
Mix all ingredients and refrigerate until needed.
Finish:
Take about 3 ounces of dough and form into a patty.
Place in a fryer at 300 degrees Fahrenheit until golden brown and puffy.
Slice and fill with chicken salad.
It's not against the law to take naked pictures of princes in hotel rooms, but there are a few things you can't do in Sin City.